There are numerous options available as car fragrance products, from sprays, cardboard air fresheners, and plug-in variants. And now we have 100% natural car vent air diffusers.
Reed Diffuser is an essential oil diffuser that is popular in homes. But vehicles get musty too. So when it comes to picking a fragrance to get rid of unpleasant car smells, you want one that's effective and safe for both you and the environment.
Reed diffusers are steadily gaining popularity for their use in homes as well as cars. Although these products have carved a niche in the market, it would be unfair to assume that everyone is familiar with them. Therefore, let's look at the basics of how this type of air freshener functions.
How Do Reed Diffusers Work?
To understand how these fragrance apparatus works, you should first understand the components that make them up. At first sight, a reed diffuser looks like a bottle of oil with slender sticks sticking out of the spout.
The sticks are called reeds. They absorb the oil then disperse the scent into the air. You dip the reeds in the oil and flip them so that the saturated part protrudes outside the bottle. The oil seeps into the air, filling the room with the fragrance of your choice.
Typically, when you purchase a reed diffuser set, it comes complete with a diffuser bottle, diffuser reeds, and essential oil. The reeds have a 2.75mm diameter.
You can place the reed diffuser anywhere in the car, but make sure it is stable so it doesn't tip over when you drive around. The dashboard is a popular spot.
Can Reed Diffuser Be Used In Car?
Short answer: Yes! You can use Reed diffusers in a car. Here's why:
Safer Alternative
Some fragrant products pose a risk to our safety. For example, although scented candles are highly effective, they are also a fire hazard.
Reed diffusers, on the other hand, do not require any form of heat to release scents. The risk of fire from a reed diffuser is eliminated, making them one of the safest air freshening products currently available in the market.
Healthy Option
Other than the safety factor, reed diffusers are good for your health. The most obvious evidence is more direct. Essential oils have an aromatherapeutic impact on the body. This means that every time you step into your car, you benefit in more ways than one.
Because they do not require a flame to emit fragrance, there is zero emission of soot and other contaminants, such as Carbon dioxide.
Unlike other alternatives like aerosol sprays, the Reed Diffusers are safe to use around children, people with respiratory issues like asthma, and pets.
Versatile Collection of Scents
You can use numerous scents in the reed diffuser: Lemongrass, lavender, lemon, tea tree, eucalyptus, peppermint, frankincense, sweet orange, chamomile, and many more. You are guaranteed to find a smell that suits your fancy.
Versatility in the variety of fragrances means there is something for everyone. There's something for you, whether you're after a warm, spicy aroma that is inviting and elegant or one that transports you to a faraway land.
For instance, a fusion oil of lemon and eucalyptus invokes alertness, leaving you feeling energized. A chamomile aroma will induce relaxation when you're feeling a little bit down. Pick a scent that is ideal for your car.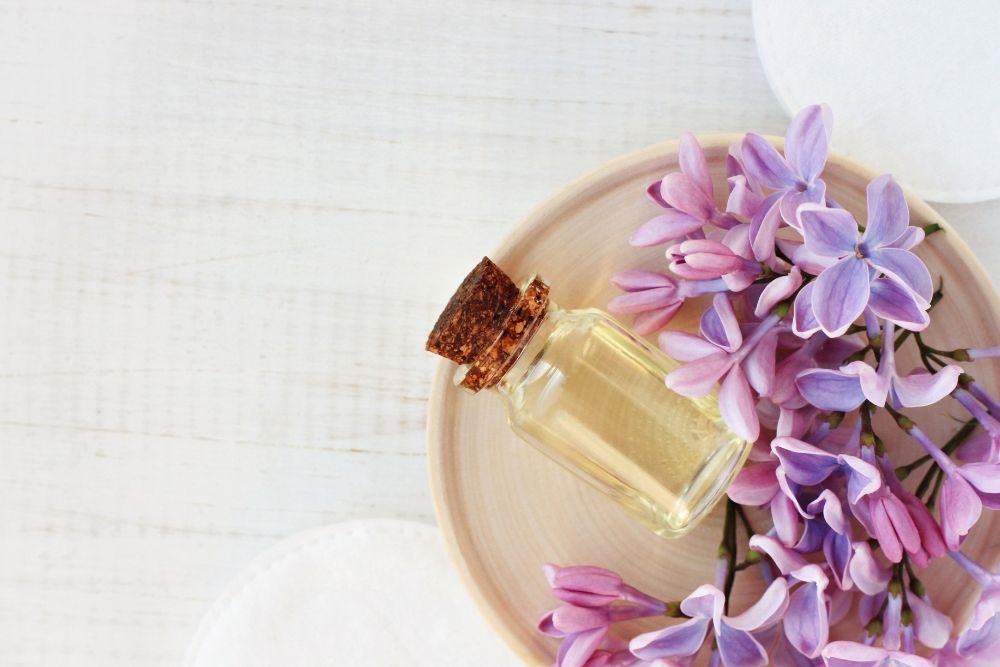 Great Aromatherapy Benefit
We all know that for effective aromatherapy to occur, you need to use essential oils, not the manufactured synthetic scents. Artificial components are used to make the synthesized aromas, rendering them incapable of aromatherapy.
Reed diffuser uses organic essential oils. This allows you to incorporate aromatherapy in your car as you drive around.
Value For Your Money
Reed diffusers are a cost-effective solution for adding fragrance to your car. They are pretty less costly compared to other air freshening alternatives.
The majority of reed diffuser kits come complete with everything you need: Fragrance oil, reeds, and a stylish jar. Just imagine if you had to purchase each component separately, it would definitely cost more.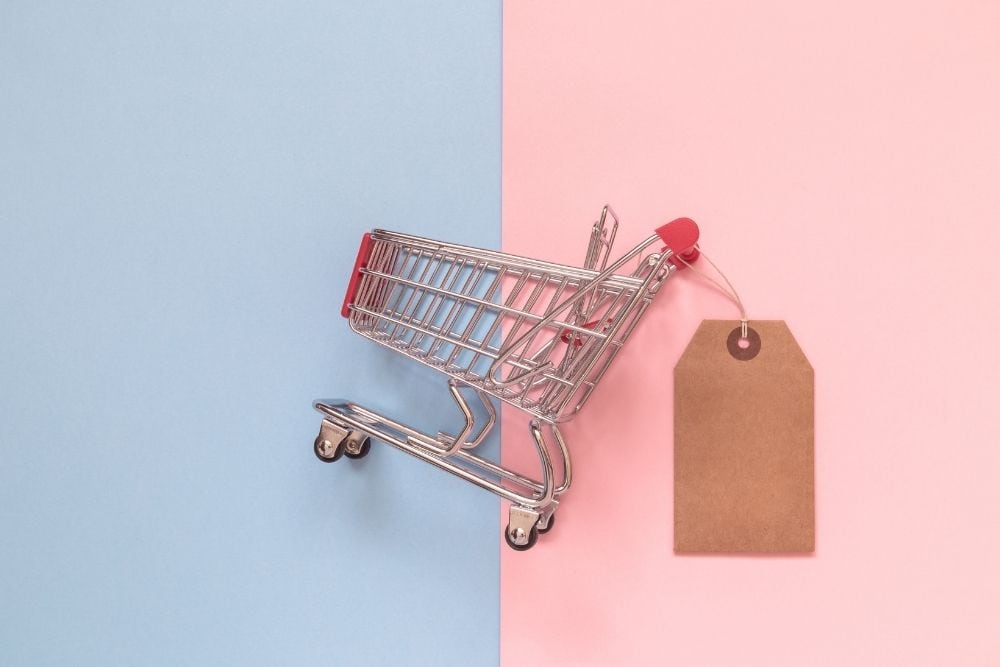 Nevertheless, these types of diffusers have longer-lasting effects. This means you do not spend too much money buying new ones or making replacements. They usually last through a couple of weeks or several months (it all depends on your usage rate).
Go Green
If you're looking to minimize your carbon footprint on the planet, then a reed diffuser is the perfect option for you.
It consumes no energy and releases none. And since it does not require fire or power, there is zero emission of smoke, soot, and other toxins. Opt for all-natural essential oils rather than synthetic ones.
Easy To Use
A reed diffuser is relatively easy to use. All you have to do is pour the oil into the decorative diffuser bottle, immerse the reeds in the aromatic liquid, and let it sit undisturbed.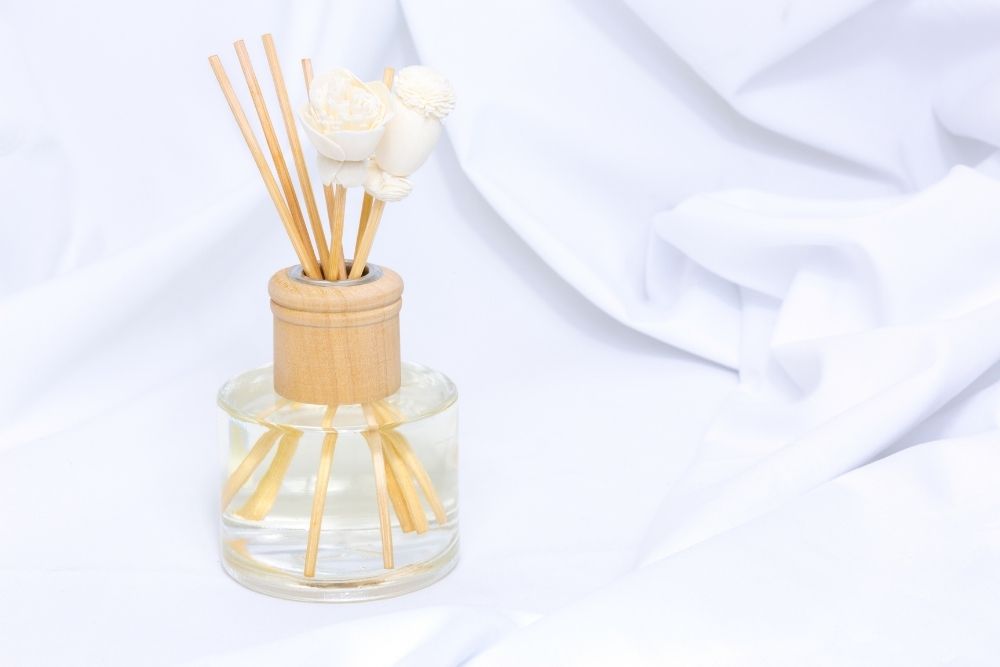 There is very little need for human intervention—no wicks to trim or every-hour sprays. Once you assemble the apparatus, you can forget about it.
Even flipping the reeds is a personal preference. They still work fine even if you don't turn them now and then. Turning the reeds only helps to refresh the aroma.
Best for Enclosed Spaces
Have you ever ridden in a car with an overpowering fragrance? As soon as you step in, you are taken aback by the overwhelming scent of the product. You will never experience the same if you opt for a reed diffuser.
Unlike other forms of scented products, like sprays, it is not easy to overdo. Reed diffusers add just the right amount of fragrance to your car without overdoing it.
What if I Want a Stronger Fragrance?
Although the mechanism of a reed diffuser is somewhat rudimentary, you can easily control the subtleness of the fragrance. There are numerous reasons why you may want to increase the scent in your car. Maybe you had the dog in there or carried something that left an unpleasant odor.
For a fuller effect, increase the number of reeds dipping in the aromatic oil. The more channels the fragrance can pass through, the stronger the output. Flip the reeds every 5 – 10 days to lift up the oil, giving off more fragrance.
On the other hand, it goes without saying that if you're after a more subtle aroma, reduce the number of reeds.
Are Reed Diffusers Safe To Use in Cars?
Another common concern is if they are safe to use in a car. Considering that you'll be using it in an enclosed space (your car), these safety concerns are legitimate.
To put your mind to rest, a reed diffuser is entirely safe to use in your vehicle. There is hardly any official medical evidence reporting adverse reactions of any kind. Unless you already have an existing allergy to one of the essential oils in the reed diffuser, there is nothing to worry about.
According to Rose A.G. Soloway, a clinical toxicologist with NCPC, Reed diffusers can be toxic when ingested. If one swallows reed diffuser fragrances that contain isopropyl alcohol, one may suffer mouth irritation, tummy upsets, nausea, vomiting, or drowsiness.
Thus, if you often have children or pets on board, ensure you place the reed diffuser far from their reach.
How Much is a Reed Diffuser Kit?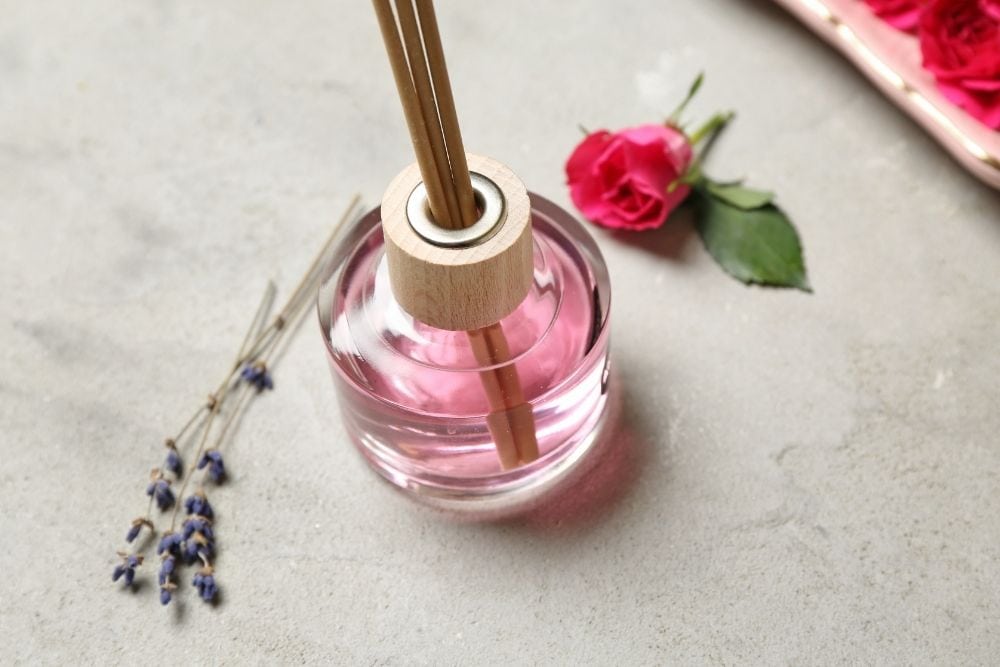 Car reed diffusers are available in a broad range of shapes, sizes, and types. Some manufacturers may tweak their designs to help them stand out. There might be variations in price due to:
Materials used. For instance, rattan wood sticks may cost more than synthetic polyamide.
Seller costs like shipping and packaging
All in all, a basic Reed diffuser kit is quite affordable. It is also possible to purchase the items individually. Online sellers are often a bit cheaper.
The Bottom Line
In recent years, more car owners are increasingly opting for reed diffusers as a way to make their cars smell better. They're not only eco-friendly, but they are also easy to use, require no energy input. The materials are all-natural or recycled.
Get a Reed diffuser for your car, and experience a natural, constant balance of fragrance as you sit and drive.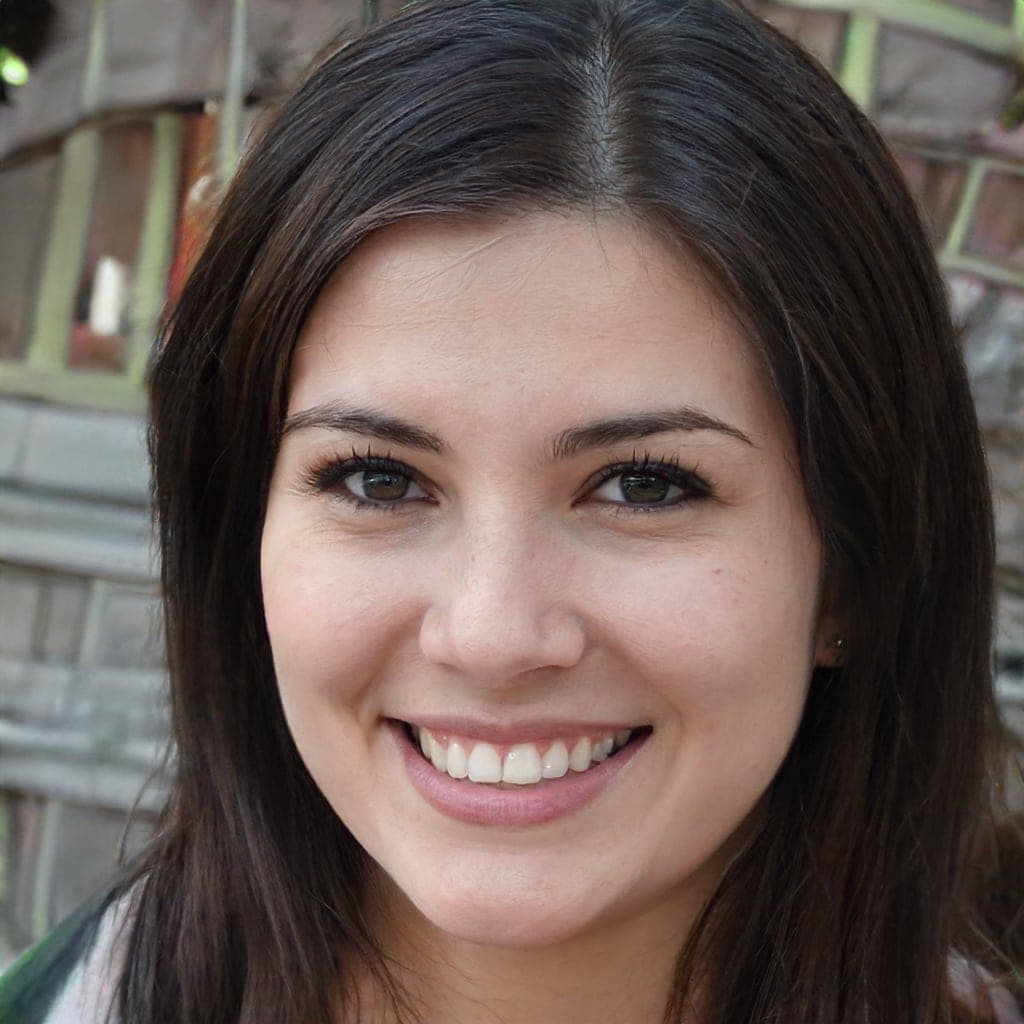 I currently work as a medical receptionist, but my ultimate goal is to work as an occupational therapy assistant. Helping others achieve a better quality of life is something I'm after. That's one of the main reasons I started this blog. Learn more about me.