Do you want to use a reed diffuser at home but don't have much experience with it? Well, the good news is reed diffusers are easy to use. You can choose the fragrance oil you like and pair that with suitable base oil.
One issue to keep in mind is the quality of the fragrance oil. Since the aroma will penetrate your indoor air, make sure you only choose 100% natural essential oils. These are free of harmful substances that can affect your health.
Can You Use Fragrance Oil on a Reed Diffuser?
The purpose of a reed diffuser is to fill your space with a lovely aroma. You should have essential fragrance oils at your disposal. Some reed diffuser sets come with fragrance oils, but you can always buy others to add to your collection.
The best way to utilize the fragrance oil is to have base oil like olive or sweet almond. These oils help the fragrance oil travel up the reeds, where it's dispersed into the surrounding air. Good airflow makes it easier for the lovely aroma to fill the house.
Follow the following steps when you use a Reed Diffuser. Also, you can view a video guide here.
How to set up and use a reed diffuser
Step One: Fill the Jar with Base Oil
Once you have the reed diffuser set at hand, grab the base oil and pour it into the jar. If the jar holds 150ml, pour in 100ml of the olive oil, for instance.
Step Two: Add the fragrance/essential oil
Add 50ml of the fragrance oil into the reed diffuser jar. This will cover the remaining area in the jar.
Step Three: Mix the Oils
Use one of the reeds to mix the oils taking care not to spill on the surface.
Step Four: Add the Reed Sticks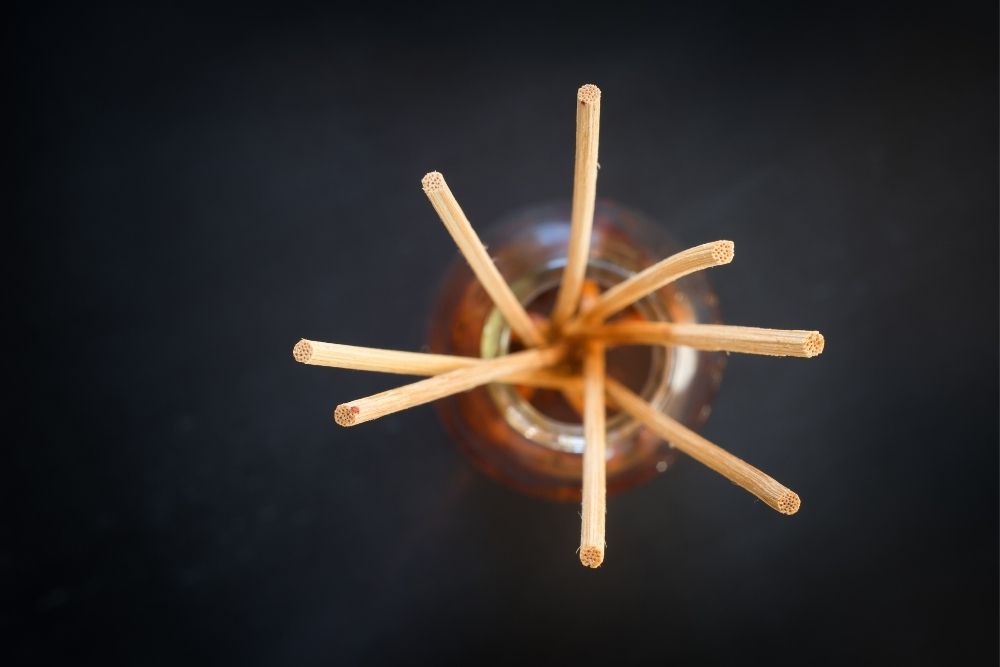 Add about 6 to 8 reed sticks into the glass jar. Pour out some of the oil mixtures if the jar is too full. Remember, the more reeds you place in the jar, the higher the aroma concentration in the room. In short, if you don't want a strong scent, only put a few reed sticks in the jar.
Step Five: Pick the Right Spot
The place that you choose to keep the reed diffuser in your space matters. Areas with high airflow, like near a window or AC, will only frustrate you. There's no way you'll enjoy the aroma, so pick the opposite of such spots.
Also, make sure the jar stays away from areas that experience direct sunlight. The sun rays will make the fragrance oil disperse faster, which means you have to refill the jar more quickly. Oil helps the fragrance flow quicker and better in the house, so this is the best option for a reed diffuser.
Step Six: Rotate the Reed Stocks
Every two weeks, you have to flip the reed sticks in the diffuser jar for maximum benefit. When you do this, you disperse more of the fragrance oil into the atmosphere. This ensures you continue to enjoy the relaxing aroma until all the oil ends.
5 Best Reed Diffusers to Use with Fragrance Oil
Features
Brand: Capri Blue
Model Name: Aspen Bay Capri Blue diffuser
Color: Navy Blue
Material: Plastic
Container capacity: 236ml
Description
One way to fill your home with a long-lasting and lovely aroma is to use a reed diffuser. The Capri Blue brand is an efficient reed diffuser that you can use without any heat in your home. It's one of the most ideal to use with fragrance oil thanks to its plastic material jar.
The bottle is made using quality and durable plastic material. It comes in a navy blue color and can hold up to 236ml of oil. The plastic material is easy to clean using soap and water, after which you lay it out to dry completely before reusing.
The Capri Blue reed diffuser bottle has a classic design and hue blend in with your home décor. Once you fill it with oil, add the reeds, find the right place to set it up, and enjoy the lovely aroma.
The blue coloring adds a touch of color and class to your surroundings. It gives off a more intense aroma that lasts longer than air fresheners.
Features
Brand: Benevolence
Fragrance: Lavender and Eucalyptus
Jar Color: Black
Material: Glass
Container capacity: 435ml
Description
Benevolence offers users lavender and eucalyptus scents known for their therapeutic capabilities. These scents work to alleviate stress, calm anxiety, and help you relax after a long day once you use the reed diffuser.
All you need to do is use 100% pure essential oils with a quality carrier oil to enjoy the fragrance. The reeds help the scent to waft throughout the space, and the fragrance is long-lasting. Ensure you stay away from oils with bases or fillers, which can affect your indoor air quality.
Once you purchase the reed diffuser, you get a pack with two glass vases that are charcoal-black, 3 bottles of 100% essential oils, a mix of lavender and eucalyptus, and 7 reed diffuser sticks to place in the glass apparatus.
After filling the jar with the oil, you can enjoy up to 3 months of aroma, depending on the concentration you want. This is an excellent gift for a loved one and works for all occasions. The items come in an elegant charcoal-black box that's easy to wrap.
Features
Brand: OneSky
Fragrance: Ocean mist
Jar Color: Ocean Blue
Material: Glass
Jar shape: Spherical
Container capacity: 100ml
Description
OneSky has a variety of essential oil fragrances to choose from to use in their unique reed diffuser. You can use musk, sea breeze, jasmine, or rose to fill your entire space with a lovely and relaxing aroma.
The scents last longer when you use this ocean blue reed diffuser jar that's a unique spherical shape. The shape can add design and attraction wherever you choose to place the reed diffuser in your home.
The ocean blue jar holds 100ml of oil that's long-lasting and will ensure your home has an excellent aroma. The jar is easy to clean using water and soap before refilling it with a fresh batch of oil. Just be sure the bottle is dry before adding more oil to it.
You get 8 reed sticks, one spherical jar, and essential oil when you purchase the reed diffuser. Pick the essential oil you want to use and set it up.
The reed diffuser emits a safe aroma that has passed safety tests for several harmful substances. These include benzene, alcohol, and methanol that can affect your health and that of your family. So you can use the jar in any area of the house with good airflow.
Features
Brand: LOVSPA
Fragrance: smoked vanilla bean
Jar Color: Clear
Material: Glass
Jar shape: Bottle
Container capacity: 4 oz
Description
Picture a scent wafting through your space that has a hint of smoked vanilla bean, sandalwood, bourbon, and leather. This is the excellent aroma when you want a less sweet smell in your space that helps you to unwind at the end of a long day.
The jar that comes with this reed diffuser set is made using top-quality glass which is most ideal to use with fragrance oil. It's clear and makes it easy to tell when the liquid inside is over. All you have to do is clean it, then refill it with a fresh amount to keep enjoying the scents.
LOVSPA has designed the reed diffuser, and its box is lovely, making it an ideal gift item. The scents make it a perfect gift for everyone, no matter the occasion. You can even give your co-workers or boss to use the reed diffuser in the office.
This is an excellent alternative to scented candles or electric diffusers, which pose a safety risk. You don't need to worry about open flames or electrical faults that can destroy the diffuser.
Features
Brand: Binca Vidou
Fragrance: Mixed floral and fruity
Jar Color: Clear
Material: Glass
Jar shape: Bottle
Container capacity: 12.36 ounces
Description
Binca Vidou reed diffuser comes complete and ready to use. You get 8 high-quality fiber reeds to use in the glass jar inside the set.
The jar and other items come in an exquisite blue box that you can gift someone. The glass jar is clear for easy liquid observation and simple to clean using soap and water.
This reed diffuser has fiber reeds that absorb the fragrance oils easier and make sure your home always smells lovely. You can turn the reeds for a lasting effect when you notice the scent isn't strong.
In Summary
A reed diffuser is an answer you've been looking for as you search for a safer way to freshen your home. You can use fragrance oil which delivers lovely aromas to all parts of the house. Just be sure to add some base oil for a longer-lasting effect.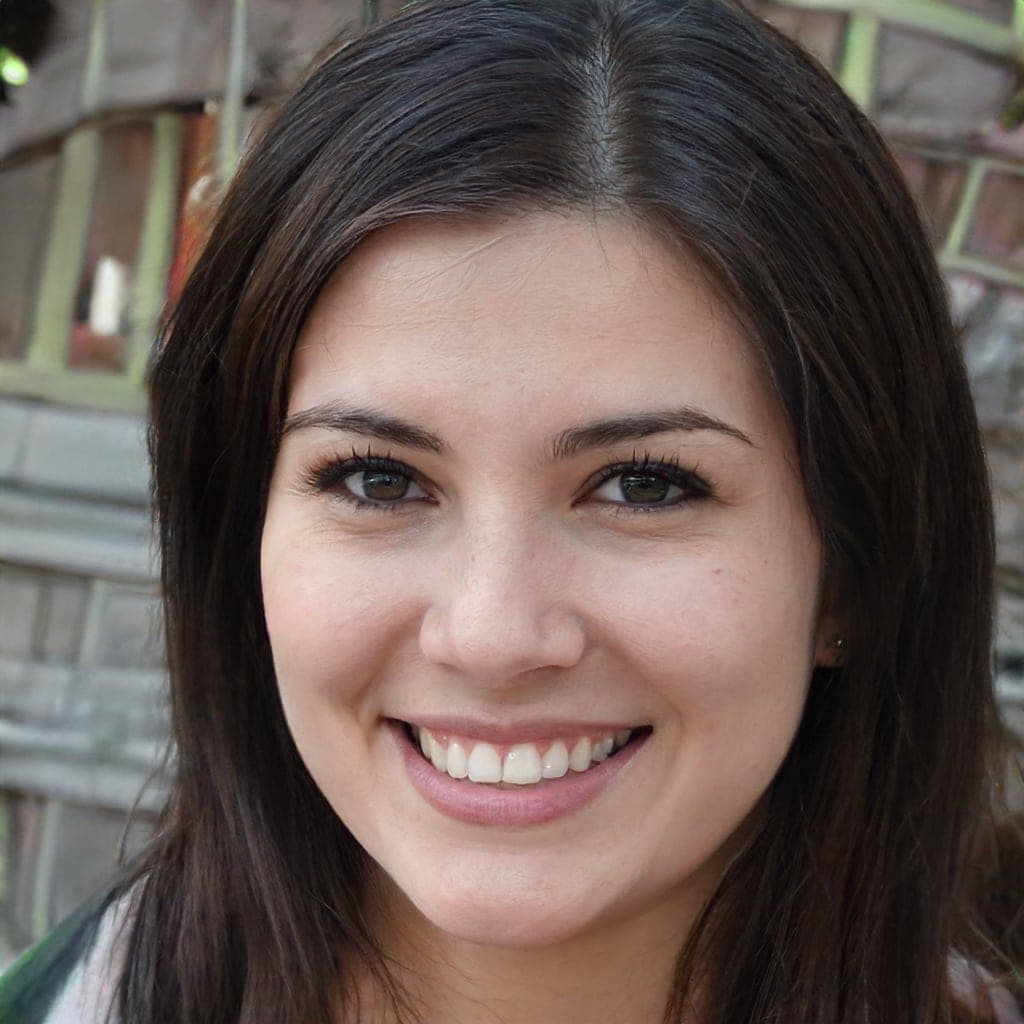 I currently work as a medical receptionist, but my ultimate goal is to work as an occupational therapy assistant. Helping others achieve a better quality of life is something I'm after. That's one of the main reasons I started this blog. Learn more about me.