There are so many wonderful ways to make your home smell good. Nowadays, you can fill your home with almost any scent under the sun from vanilla to lemon. You could even make your home smell like freshly baked cookies without so much as looking at the oven.
Reed diffusers and air fresheners are two fantastic ways you can scent a space. At first glance, they may seem relatively similar, but in reality, they are two completely different products.
So, what's the difference? And what should you know before purchasing them?
Keep reading to learn more!
Reed Diffuser
A reed diffuser is typically a small-mouthed bottle filled with fragrance with 5 or 6 diffuser sticks in it. While a standard electronic diffuser emits well-perfumed must into a space, a reed diffuser offers a more subtle scent to a room.
A single diffuser can last several months without being refilled.
How Does It Work?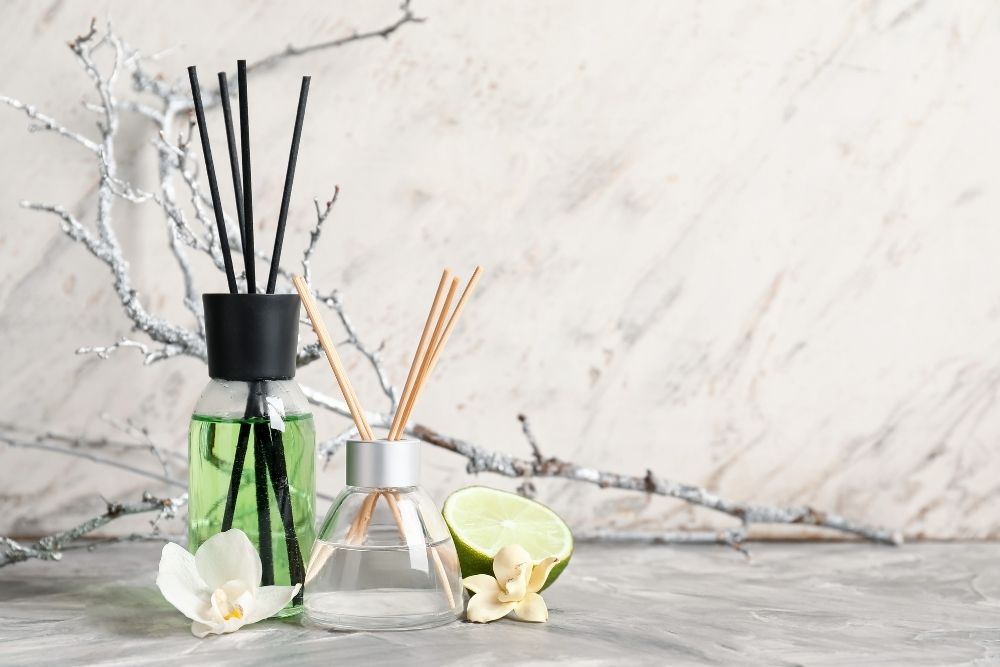 The diffuser sticks (or reeds) are integral to a well-functioning reed diffuser. The fragrance moves up the diffuser, eventually making its way to the top where it can gently move around a room.
The liquid inside can be bought or made at home from a mixture of carrier oil, essential oils, and high-proof alcohol.
Who Is It For?
Reed diffusers are perfect for people who don't want their aromatherapy experience to be too overpowering. It's also ideal for individuals on the go that don't have time to clean an electric diffuser.
A reed diffuser should be wiped down periodically to avoid dust build-up, and the sticks should be flipped once to twice a week to keep things smelling fresh. That's it!
Air Freshener
Most people have probably seen an air freshener tucked in the corner of someone's bathroom. They are usually in aerosol cans and scented to smell light, fresh. Lemon and lavender are two popular air freshener scents.
The typical air freshener isn't made with very natural ingredients, however, there are some more organic options on the market, too.
How Does It Work?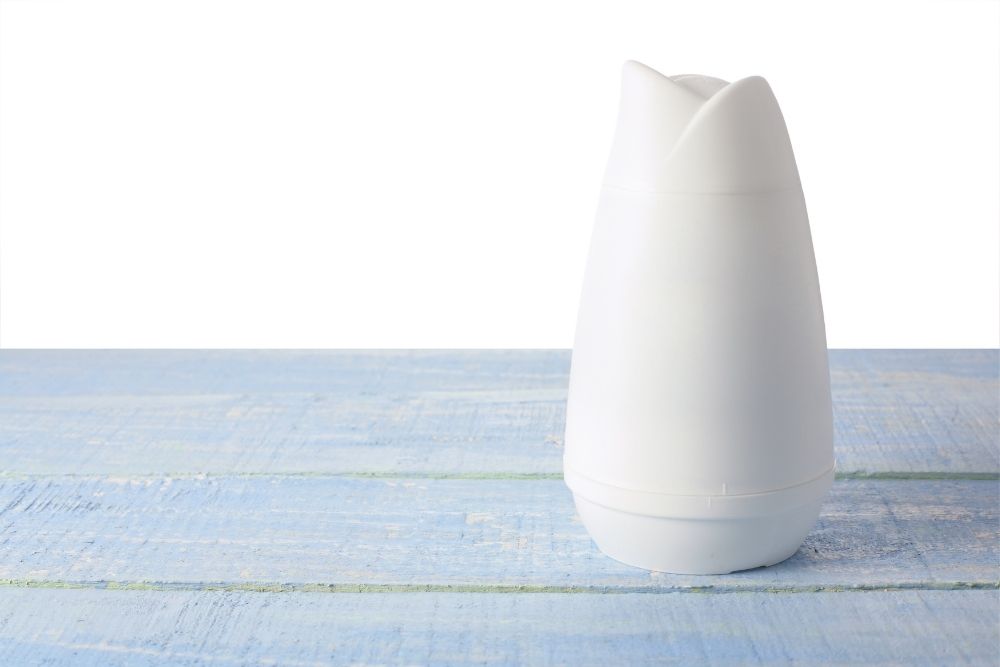 Air fresheners are filled with substances that convert from liquids to gases, which our noses are able to pick up more easily. As the gas molecules spread around a recently-sprayed room, the space begins to smell much more fresh and clean.
People like to use air fresheners in the bathroom, or in a space that smells a bit stuffy and needs a revamp.
Who Is It For?
This scent spray is great for people who want quick, efficient ways of spreading perfume around a room. Since air fresheners usually emit quite a strong fragrance, they are not for the fainthearted.
A good air freshener would be ideal for an individual living in a space that doesn't have very many windows, especially in the bathroom where unwanted scents are commonplace.
Comparison Table
Reed Diffuser

Air Freshener

Ease Of Operation

Easy

Easy

Key Features

Easy to set-up
Can last a long time
Completely silent
Very low maintenance
Chic looking
Many colors of reeds and bottles available
Reed diffuser fragrances are easy to buy
Easy to DIY
Quite safe
Not overpowering

No set-up required
No real maintenance
Completely silent
It doesn't involve leaving anything out, which is perfect for people worried about aesthetics
Lots of scents available
Very accessible
Can mask unwanted scents well
Powerful aerosol bottle to spray scent around efficient
Possible to DIY

Materials

Water
Essential Oil/Fragrance Oil
Diffuser sticks

Aerosol bottle
Fragrances
Metal
Plastic
Essential oil (optional)

Affordability
Wide Range of Prices
Very Affordable
Safety
Safe as long as oil used is safe for pets/children
Should not be used with pets in the room
Maintenance
Wipe down dust, flip sticks once or twice a week
No maintenance required
Customer Reviews
Generally Very Satisfied
Generally Very Satisfied
Key Benefits
What makes each product so great?
Reed Diffuser
Reed diffusers are superb aromatherapy options. Typically, a reed diffuser fragrance is designed to soothe and inspire individuals to relax, and that's exactly what it does.
This non-electronic diffuser is incredibly effective at calming a space, and even increasing the oxygen levels in the muscles of people enjoying the scent. Tension is also relieved with the help of a reed diffuser.
It is important to stress that this kind of diffuser scents its surrounding area subtly. However, this is great for people who want to enjoy the benefits of an essential oil without triggering any sensitivities they might have.
We could go on all day about how fantastic essential oils are for the mind and body, and the reed diffuser is an understated method of enjoying those benefits.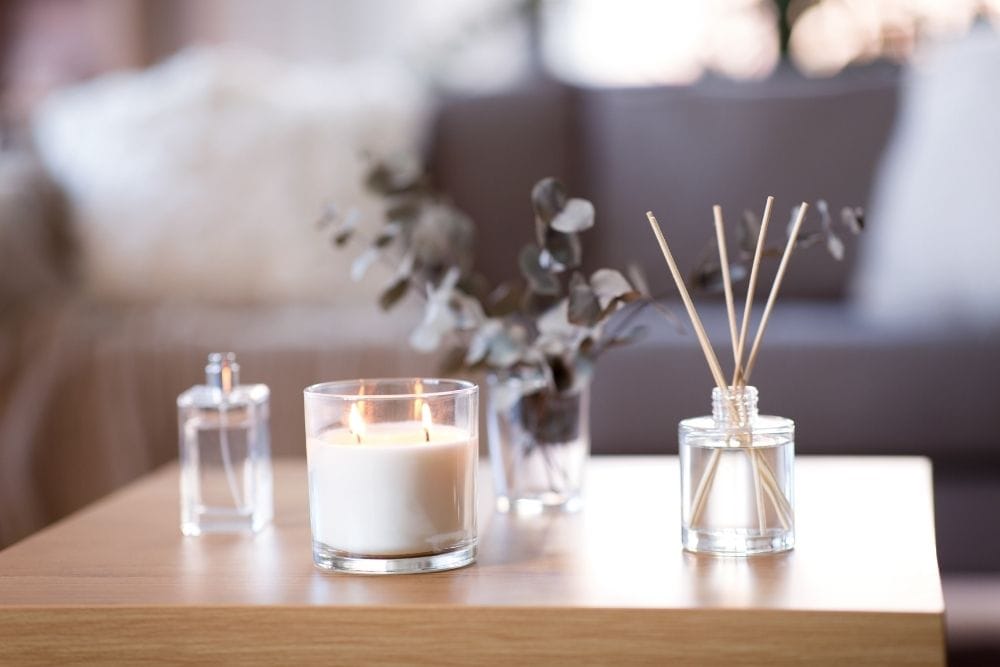 Air Freshener
The best thing an air freshener does is eliminate unwanted smells. You can even prevent unwelcome scents with automatic air fresheners that will eject a spritz of fragrance every 10 to 30 minutes.
An air freshener is not that different from a perfume. Most people enjoy a couple of sprays of perfume every morning to keep them smelling clean and fresh the entire day, and air fresheners do just that, except for your couch or bathroom.
You can also enjoy essential oils via an air freshener if you make your own or buy one with pure essential oils and natural ingredients in it. Just make sure to read the ingredients list carefully since the word 'natural' gets thrown around a lot these days but doesn't actually mean much.
Quality/Materials
Most people who enjoy aromatherapy are concerned about the quality and materials in different scents. Here's what you need to know about each product.
Reed Diffuser
Reed diffusers have become very mainstream, so not all reed diffuser liquids are natural. However, there are some good options out there, too.
It is very easy to make your own reed diffuser liquid at home, and we recommend going that route if you're concerned about the quality of your aromatherapy.
At the same time, because reed diffusers are only distributing a very small amount of scent particles around a space at one time, we don't feel the need to worry too much about how natural the liquid is. The reality is you won't be inhaling very much of it.
Air Freshener
Air fresheners are not natural. At least the ones you can buy at the grocery store aren't. Since the point of a good air freshener is to provide a quick solution to a stinky problem, most of them are fabricated to eject scent droplets efficiently.
Standard air freshener brands contain over 100 different ingredients in their products. However, DIY air fresheners are completely safe and have the added bonus of containing the great benefits associated with essential oils.
You can make an air freshener at home with water, essential oils, and maybe a bit of salt, baking soda, or high-proof alcohol.
DIY | Homemade Air Freshener With Essential Oils
No aerosol can? No problem! Just use a classic plastic (or glass) spray bottle. This is also the more eco-friendly option, so you're killing two birds with one stone by taking a few minutes out of your day to throw this together.
Safety
There are safety concerns with both products that should be addressed. However, we believe that you can enjoy a reed diffuser and air freshener without any health risks as long as you keep a few things in mind.
Reed Diffuser
We have to talk about pets whenever there is any discussion about an essential oil product. Reed diffusers aren't inherently dangerous, however, some essential oils may be harmful to your pets.
All animals, especially cats, are very sensitive to smells. What may seem like a pleasant scent to our noses might be wildly overpowering for their cute little nostrils.
Some essential oils, like lemon or orange oil, can poison your pet. This is why we always recommend doing some research before using a new essential oil.
We recognize that a reed diffuser doesn't produce that much scent, so in theory, it shouldn't be as dangerous. While we understand the logic behind this, the consequences just aren't worth it.
Similar rules apply to babies and small children.
Talk to your vet and pediatrician to learn how you and your family can enjoy reed diffusers safely.
Air Freshener
Before we get into the potential safety issues attached to air fresheners, it's important to explain that essential oil-based air fresheners do not have the same health concerns. We're talking about typical, run-of-the-mill air fresheners.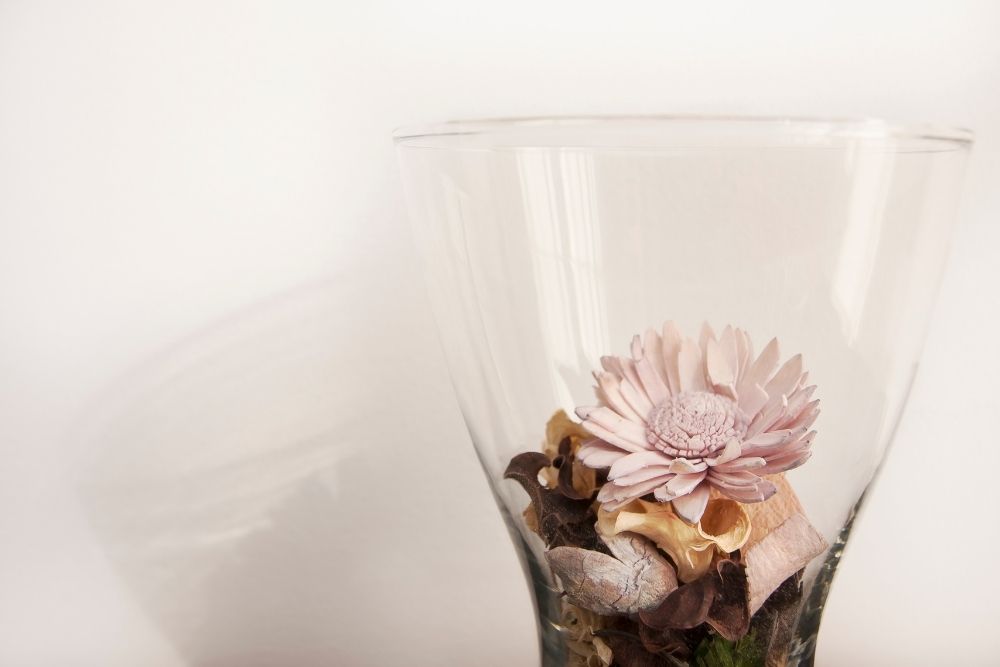 Chemicals found in some (not all) air fresheners may be hazardous or toxic, especially to individuals with asthma or respiratory issues. Some air fresheners may also be harmful if they land on your skin while being sprayed around a room.
Inhaling these potent, chemically perfumes are also unsafe. So, if you're using an air freshener, hold it at arm's length while spraying. You should also be mindful of how much you're using, especially if the room doesn't get a lot of ventilation.
Recommended Products
Here are some of our favorite products!
Reed Diffuser
Craft & Kin Jasmine & Lily Scent Set
Sale
Reed Diffuser Sticks 'Jasmine & Lily Scent' Set, Includes 8 Rattan Scented Sticks Diffuser...
AROMATIC JASMINE & LILY 'CALMING & RELAXING' SCENT: Soothing & therapeutic, our 'Jasmine & Lily Scent' offers a perfect aroma to relieve stress, and to restore & revitalize your senses. It's...
WHAT YOU GET, AROMATIC REED DIFFUSER SET: Includes (1) 8 rattan oil diffuser sticks, (2) an elegant amber glass vase and (3) premium natural jasmine & lily mixture essential oil (5.75oz), good for...
ALL-NATURAL ESSENTIAL OIL, SAFE & ALTERNATIVE TO KEEP YOUR SPACE SMELLING GREAT: Reed diffusers are a great solution to relieve any stress and the scented oil sticks provide a safe release of relaxing...
This natural essential oil reed diffuser comes in a reusable amber glass bottle and includes 8 rattan diffuser sticks. The diffuser is sophisticated yet discreet and will complement any living space.
One bottle of this reed diffuser scent will last three to four months, so you're getting your money's worth.
Urban Naturals Eucalyptus & Sage Oil Reed Diffuser Refill
Sale
Urban Naturals Eucalyptus & Sage Oil Reed Diffuser Refill | Eucalyptus, Sage, Mint, Lime and...
SMELLS LIKE: A Soothing & Relaxing blend of Eucalyptus, Sage, Mint, Lime and Cedarwood.
Need an oil refill for your Reed Diffuser Set? We've got you covered. Or make your own DIY diffuser with our reed diffuser oil! Free of phthalates & alcohol. Each 4 oz bottle lasts 3+ months. Our...
Convenient & Long Lasting! Lasts for months without lifting a finger. No flame required. Unlike candles, reed diffusers do not require a flame, making it a much safer way to scent any room. The...
If you already have a great essential oil bottle home, this reed diffuser will ensure you never spend a day without a gentle eucalyptus and sage scent. This fresh refill is perfect for small spaces like a bathroom.
Rose Essential Oil Reed Diffuser
SOLIGT 150ml Reed Diffuser, Rose Scents Home Fragrance Natural Essential Oil, Aromatherapy Reed...
A Fragrance Is Memorable - Rose reed diffuser embraces all that is graceful and exquisite with lush notes of aromatic rose bouquet, smooth violet leaves, geranium, subtle lemon. A must-have for any...
A Flame-free Way to Spread Your Fragrance - That's because reed diffusers require no heat source to release wonderful aroma, making them safe for use in classrooms, offices, and homes—especially...
Perfect Gift Idea - Decorative design and Smooth aroma make the ideal gift for friends and loved ones, for Housewarming, Birthday, and Valentine.
The best thing about this reed diffuser is that it smells like real roses. Why waste time and money on a freshly cut bouquet when this diffuser will last you months?
This would also make a wonderfully romantic gift.
Air Freshener
Caldrea Linen and Room Spray Air Freshener
This natural air freshener is very popular and lacks the chemical smell that comes with most commercial air fresheners. You can enjoy this spray in any space, but it also works well for refreshing sheets.
Grab Green Natural Room & Fabric Freshener
Grab Green Room and Fabric Freshener, 7 Ounce (Pack of 3), Vetiver Scent, Plant and Mineral Based,...
Contains: 3- 7 Ounce Spray Bottles of Grab Green Natural Vetiver Room and Fabric Freshener
Naturally Effective: This biodegradable formula works without harmful phthalates to eliminate odors, freshen rooms and refresh fabrics
Vetiver: Our Room and Fabric Freshener spray provides an evocative and earthy natural fragrance. Perfect for scenting the air, eliminating unwanted odors from kitchens and bathrooms or refreshing...
Made with naturally derived ingredients, this room and fabric freshener uses zinc ricinoleate to neutralize odors. One thing to note is that this product is unsuitable for birds and cats.
Mrs. Meyer's Clean Day Room Freshener Spray
Sale
Made with essential oils, this lavender room spray is cruelty-free and easy to use. It has reeled in many returning customers with its light floral scent.
Customer Reviews
With any scented product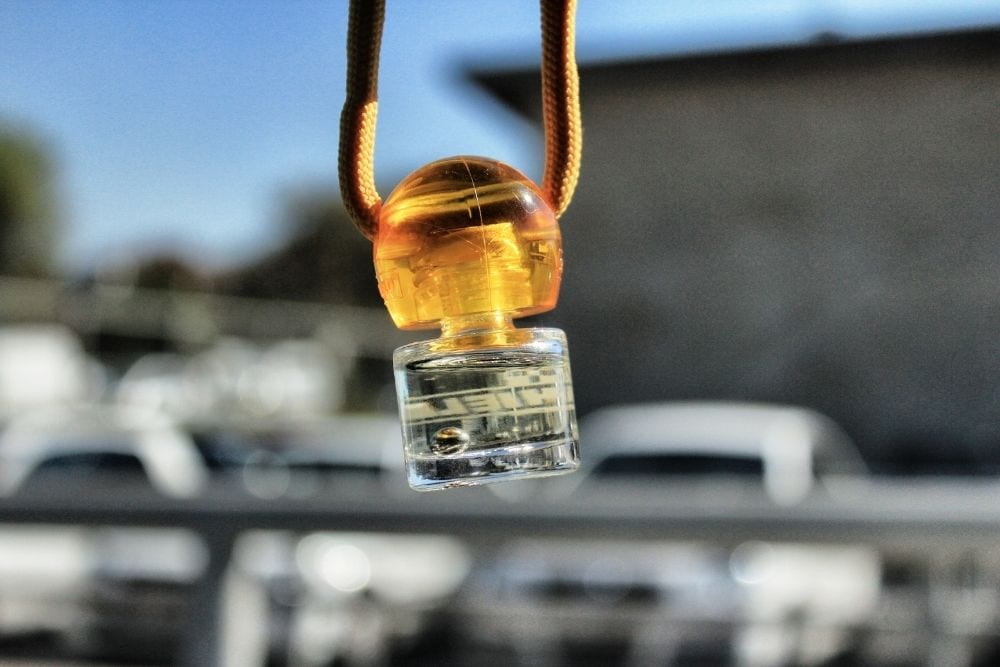 Reed Diffuser
Customers are generally very satisfied with reed diffusers. While some buyers were left disappointed with the gentle aroma reed diffusers disperse, others appreciated that this aromatherapy product isn't meant to be overpowering.
Air Freshener
There are a lot of die-hard air freshener fans out there. People love relying on an easy scent to keep their house smelling great. One thing to note is that more natural air fresheners aren't as strong as the more commercial ones, so customers tend to finish the bottle quicker.
Here's The Deal
Reed diffusers and air fresheners are entirely different. While simple reed diffusers offer long-term tender smells, air fresheners are speedy and strong.
If you can, we recommend trying to make both products at home. As long as you have water, essential oils, and some high-proof alcohol, you are ready to become your own scent master.
There's nothing more refreshing than knowing exactly what you're smelling, especially when the whole process was just as easy (and arguably quicker) than skimming the shelves for hours.
Let us know which product you prefer! We'd love to hear if you're a reed diffuser or prefer air fresheners.
Stay safe and happy oiling!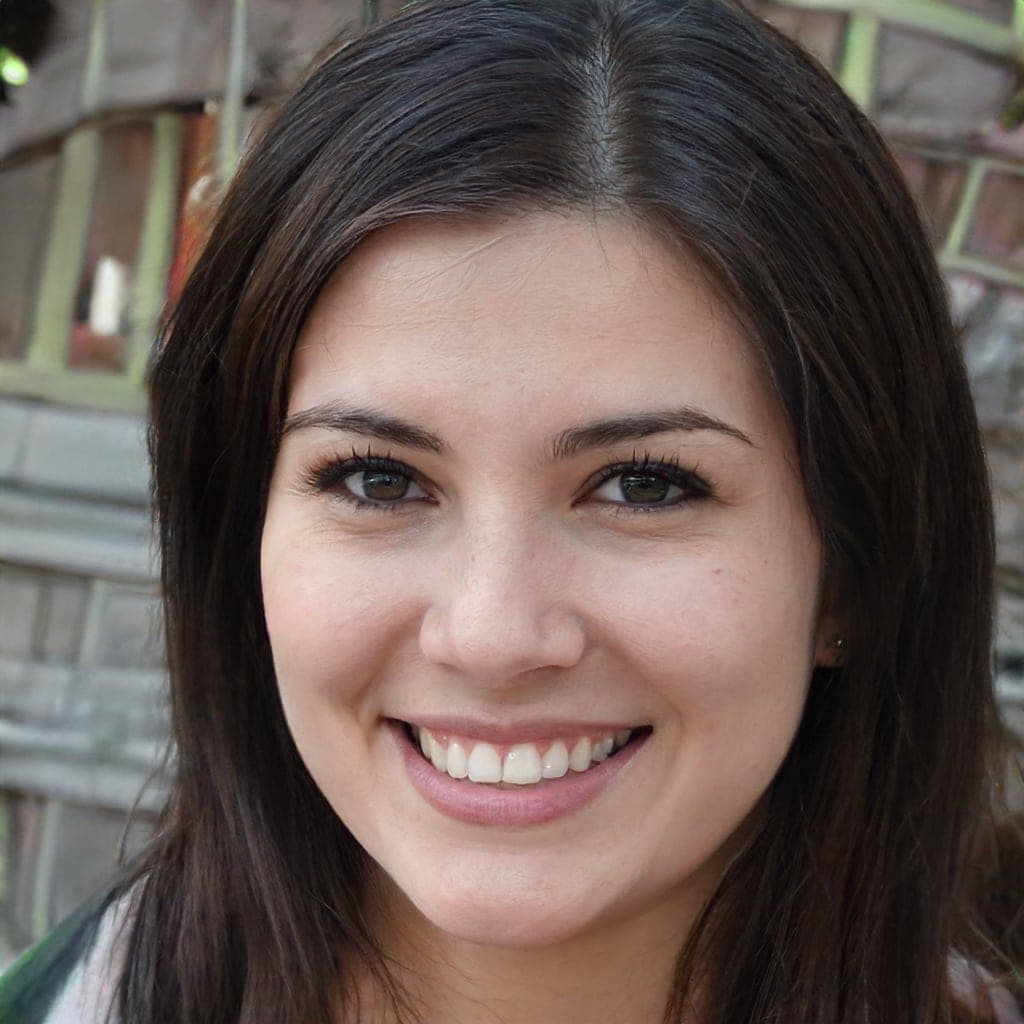 I currently work as a medical receptionist, but my ultimate goal is to work as an occupational therapy assistant. Helping others achieve a better quality of life is something I'm after. That's one of the main reasons I started this blog. Learn more about me.