It's heavenly to take herbal tea in the afternoon or lighting a scented candle while listening to soft music or meditative sounds.
Now the question is, how do you prepare that herbal tea? Do you use an infuser? Also, if you don't have a scented candle, is there any other way you can add some fragrant molecules into the air?
This article will compare diffuser Vs. Tea infuser to help you understand the two gadgets better.
So buckle up, and let's get started with the definitions.
What are They?
When it comes to comparing diffusers and tea infusers, you must first understand that they are self-care tools that you can use to get the benefits of essential oils.
Despite being in the same class of self-care products, they still have significant differences.
Diffuser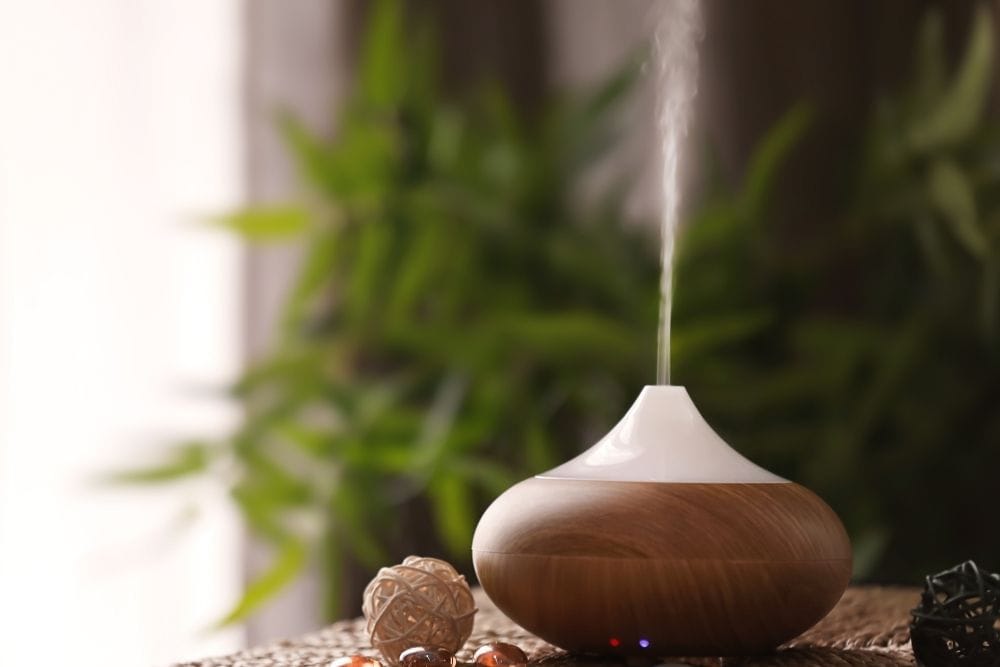 Usually called essential oil diffusers, they dissipate aromatic essential oil into the air after breaking them down.
The diffusers come in various types that operate differently, although the end goal is usually to make the air more fragrant. The effect you get from the aromatic air is dependent on the essential oil itself.
Some prefer calmness, others focus, healing or creativity, and so forth.
How do Diffusers Work
Diffuser's working mechanisms depend on the type. These are the types of diffusers plus how they work:
Nebulizing diffusers: These diffusers use a pressurized jet of air that passes over the essential oil, creating a vacuum that pulls out the aromatic molecules from the oil. This same air-jet carries the aromatic molecules into the air.
Humidifying diffusers: These diffusers use ultrasonic vibrations to disintegrate the oil molecules plus water, releasing it to the air as mist.
Evaporative diffuser: This diffuser uses a small fan that turns the liquid oil molecule gaseous evaporating them into the air.
Heat diffusers: These diffusers introduce heat directly on the oil to turn it gaseous, spreading into the air.
Diffuser Ideal Users
The diffuser is for someone who loves enjoying aromatherapy by breathing in pleasant air. Aromatherapy has numerous benefits that a diffuser can help achieve.
For instance, if you add the essential oil lavender into your diffuser, it dissipates scents that invoke a calming ambiance that makes you gracefully fall to sleep. This is helpful for someone who has insomnia or any other sleeping disorder.
You may use diffusers to dissipate other kinds of essential oils, sorting many health and mental issues directly tied to the benefit of the essential oils. Hence people trying to solve issues using aromatherapy are the group of people who benefit most from diffusers.
Tea Infuser
An infuser is a tool you use to soak tea flavor in a cup of water. Infusers are also available in varied types and styles, and one of the simplest examples of a tea infuser is the traditional teabag.
A tea infuser has a filter that is plastic, ceramic or metallic.
How Do Tea Infusers Work?
All tea infusers work in the same way, whether plastic, ceramic or stainless steel.
First, you add the loose tea leaves into the infuser and fasten it. Then dip it into hot water. The water will enter the infuser and get into contact with the leaves.
And then get out combined with some of the tea leaves molecules. This in and out water movement facilitates the transfer of the loose tea leaves flavors into the water. The result is a mix of the tea leaves flavor and water—an amazing drink that offers you the benefit of the tea.
Tea infusers Ideal Users
Tea infusers are suitable for people who love making their tea from loose leaves. Tea from loose leaves has a more potent effect when compared to finely grounded powders.
Loose-leaf teas are rich in antioxidants, anti-carcinogenic, anti-bacterial, and anti-viral elements. Additionally, they are the best at regulating blood pressure, help to deal with obesity and diabetes, aid digestion, mood-boosting, and helps with certain brain disorders.
So just like diffusers, anyone falling in any of these classes of people will significantly benefit from using a tea infuser.
Diffuser Vs.Tea Infuser Comparison Chart
Diffuser
Tea infuser
Ease of operation
Easy
Easy
Ideal Client
Aromatherapy enthusiasts
Herbal tea Drinkers
Mode of operation

Nebulizing
Heat
Evaporation

By osmosis where the concentrated loose tea leaves disperse their flavor into the water

Key Features

Control buttons to change the mode of mist dispensing( fast, slow, medium.)
Runs quietly
Auto-shut mode.
Timer.
Humidifies the air
Adds fragrance into the air.
Aesthetically appealing fitting as a home decor item

Has a holding basket with holes all over that locks
It has a handle that is either a chain or a solid structure that one holds above the hot water
Small and lightweight to fit into a mug.

Materials

Water
Essential oils
Electricity
Source of heat
Made of plastic, wood, ceramic, glass, metal.

Loose-leaf tea
Made of stainless steel, plastic, silicone.

Top products
Affordability
Cheap
Cheaper
Safety
Safe
Safe
Maintenance

Cleaning
Repair and replacement of broken parts

Cleaning after every use.

Customer Reviews
Most are 5-start reviews
Most are 5-star reviews
What Are The Key Features?
These are the facets that make these devices efficient at their jobs.
Diffusers
Since diffusers have four different kinds, their features may vary, although they are common features across the board.
Control buttons for changing the mist dispensing mode ( fast, slow, medium.)
Most diffusers operate quietly making them ideal to use while you are sleeping.
Auto-shutdown mode, which is also a safety feature-Once the device senses the water is depleted (for diffusers that use water), it shuts down automatically.
Some have timers.
They add fragrant air molecules into the air.
They are aesthetically pleasing and appropriate as a home decor item.
Tea Infuser
A tea infuser has the following features;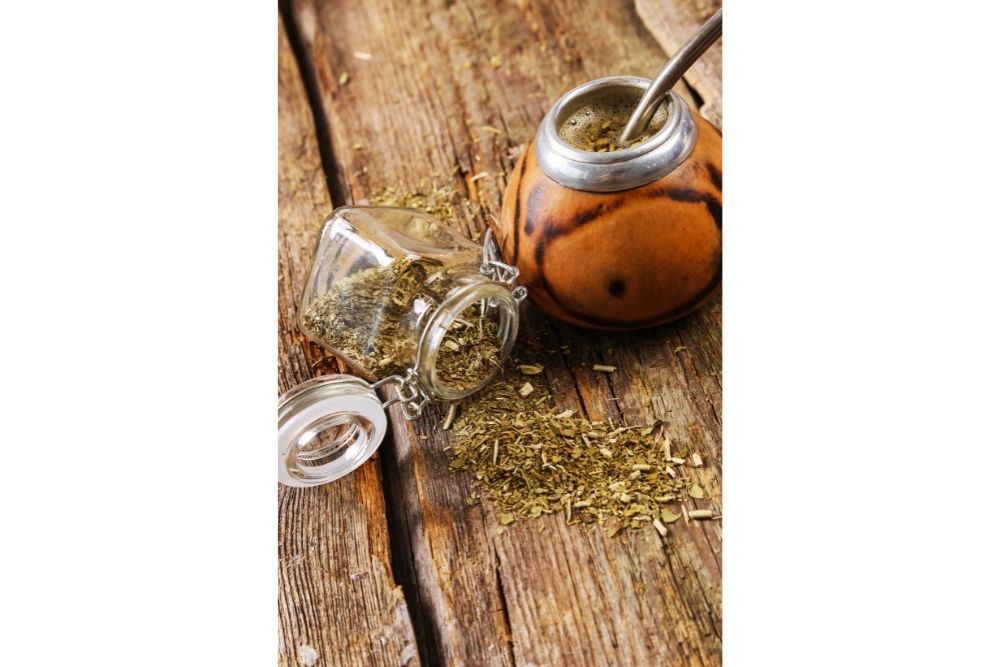 A holding pen or basket- this is the place where you place the loose tea leaves. It is usually lockable, and it has holes in the casing.
A handle- this is the part where you hold above the cup after dipping the closed holding pen with the loose tea leaves. It can be a chain or something that holds the infuser to prevent it from completely sinking inside the mug.
Verdict
Diffusers are jam-packed with specific features beyond what we have mentioned above. Tea infusers have the same basic features on every tool across the board.
Affordability
Affordability refers to the price. The lower the cost of the item, the more affordable it is.
Diffusers
Diffusers usually range within the prices, but this depends on the size and type of diffuser.
Another price determinant for diffusers is that some have extra features like a night light and a humidifier. Such multipurpose pieces usually retail for a bit pricey.
Tea Infusers
Tea infusers are also available in multiple shapes, forms, materials, and sizes, and their prices are kinda reasonable.
Tea infusers are typically straightforward tools with direct use such that the most pricey kinds have a unique shape. The mode of operation is the same for all.
Verdict
The tea infusers are more affordable than the diffusers. More so, if you are wondering which to get and you are on a tight budget, you are better off going with the tea infuser, although both fall in a reasonable price bracket.
Safety
Both items are safe to use with a few exceptions:
Diffusers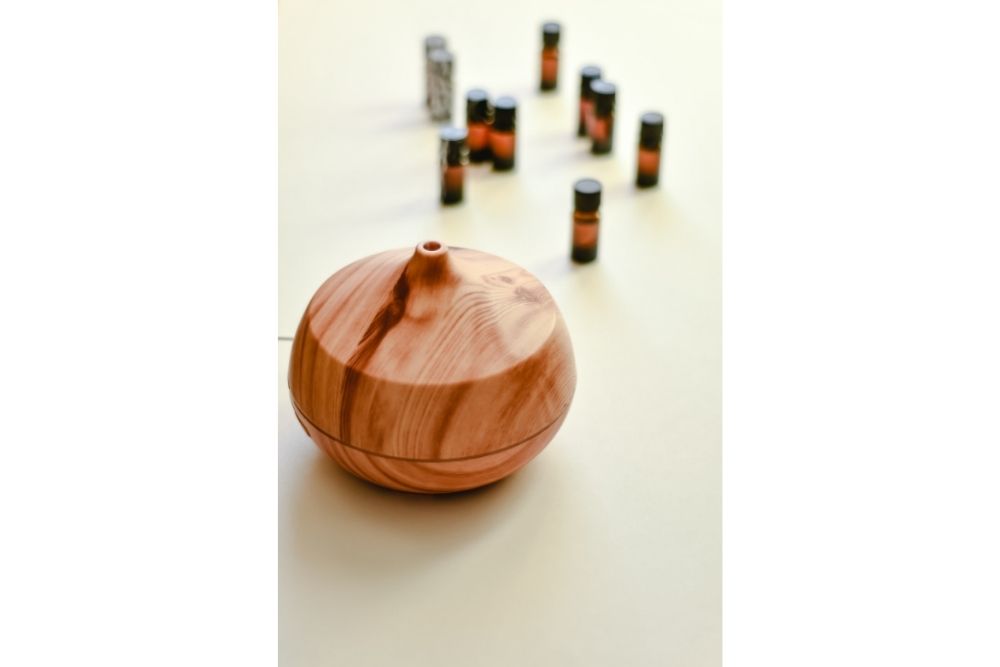 You should keep all diffusers with an electric connection away from children. The same applies to the ones with breakable parts and heated parts like the nebulizing and heat diffusers, respectively.
Also, place ultrasonic diffusers where they are least likely to fall or hit by anyone passing and places away from power sources like sockets.
Besides that, they are safe to use.
Tea Infusers
You must use tea infusers with care, especially if the water is too hot. It is best if you gently dip the tea infuser to avoid spilling any hot liquid on yourself.
Also, after the flavor has completely sipped into the tea, slowly remove the infuser and place it in a safe place like a paper towel or dish to avoid scalding with the hot liquid.
Verdict
On this front, both seem to be fairly safe tools to use. However, it would be best if you were extra careful with diffusers more than tea infusers.
Maintenance
These are the practices you should do to keep the devices working optimally.
Diffusers
The maintenance practice you need to do is cleaning the diffusers occasionally. Each type has its set routine, and you should follow it to the latter.
You must repair or remove all worn-out and broken parts to ensure the diffuser keeps working well.
Tea Infusers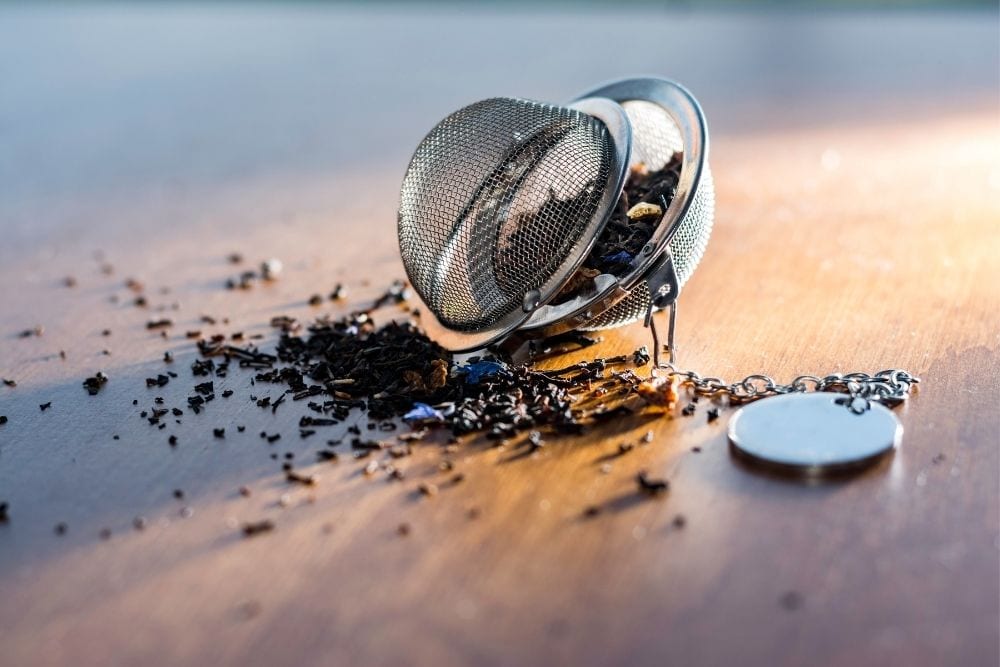 You need to empty and clean the Tea infusers after exhausting the flavor of the loose tea leaves. Also, dispose of the drained, loose tea leaves. This is to ensure that the mesh holes are free from any blockages.
Cleaning also maintains that the infuser does not encourage any mold growth or any other harmful pathogenic organisms.
What is the Material Making the Item?
Diffusers
Most diffusers are usually plastic, although there are specific kinds, like nebulizing diffusers with glass parts.
Infusers
On the other hand, tea infusers can typically be plastic, stainless steel, or ceramic.
The type and grade of material used for both items are dependent on the specific brand and their styles. The manufacturers apply the same freedom when it comes to color and sizes.
Top Specific Products
Diffusers
The Renwer is one of the best sellers on Amazon, which is one reason we chose it as a top brand. It is a silent diffuser with impeccable misting capabilities. It is a multipurpose device that can also be used as a humidifier and a nightlight.
The Renwer ultrasonic has 7 LED mood lights, and it holds 500ml water capacity. When the water depletes, the gadget automatically shuts down.
This Scentcares nebulizing essential oil diffuser is a masterpiece we selected because it is the best in the class of diffusers to use in large rooms. It does not use nor emit any heat, making it a safer option to the rest. It is also a waterless device, so no leakages or spillages.
It is very silent and operates as an intelligent device that is charged using a standard USB cable. This device has a three-level mid dispensing intensity, and when you buy it, you get a 3-year warranty.
Tea Infusers
The reason we went with this set is that they first come in twos. They are made of durable 304-grade stainless steel that proffers long durability. The clasp on the holding basket is firm and holds firmly when shut.
The chain is attached to a hook that sits at the mug's edge, making it easy for you to remove the infuser. It is the best for medium-sized loose tea leaves.
First of all, the Tilevo tea infuser is one of the most adorable tea infusers that are simple to use and are lightweight.
The silicone is incredibly easy to clean, and it lasts long. It is also ideal for medium and large-sized loose tea leaves.
Customer Reviews
Diffusers
Many users like the fact that some diffusers have a multipurpose purpose, like being humidifiers and nightlights.
When using diffusers, you must place them on a site that is least likely to be windy; otherwise, the wind may blow away the aromatic essential oil molecules.
Clients who bought the Renewer and the Scentcares diffusers had the following to say about the devices:
Positive Reviews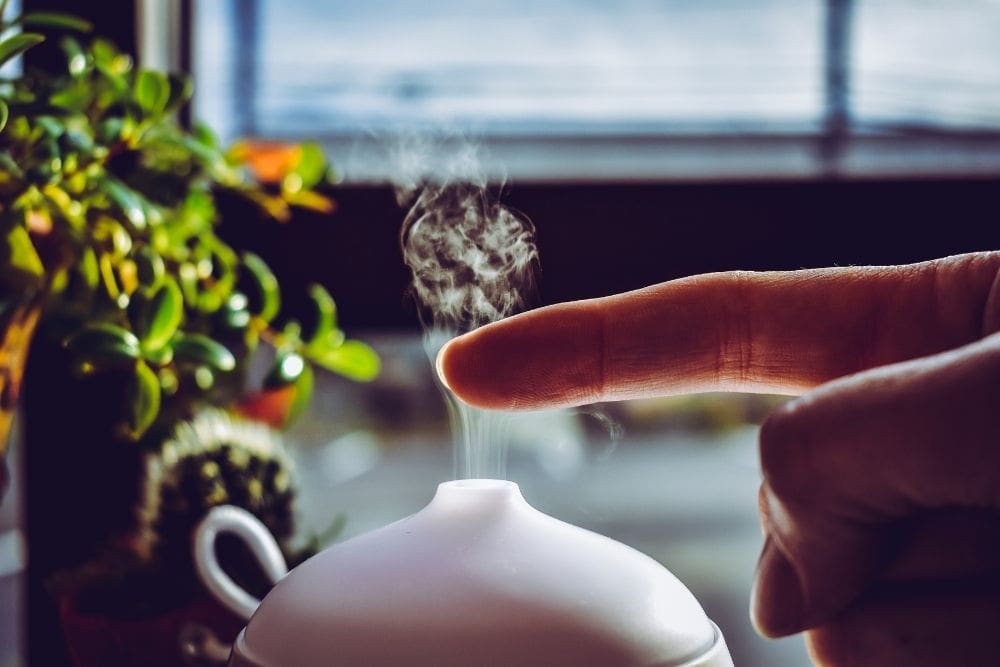 Most of them were happy with the functionality of the piece. It worked as advertised and delivered the essential oil molecules beautifully.
The diffusers are both very silent, allowing clients even to use them while they sleep.
Negative Remarks
On the flip side, one client highlighted that the Renwer diffuser leaked from the bottom.
A client using the ScentCares nebulizing diffuser gave testimony that the device spits too much of the essential oil, giving out both mist and water droplets.
Tea Infuser
They are lightweight so you can carry them with you even when you travel.
The stainless steel tea infusers rust after long usage and the hinge loosens letting through big chunks of loose tea leaves brew.
The clients who used the Fu store stainless steel infuser and had the following to say:
Positive Remarks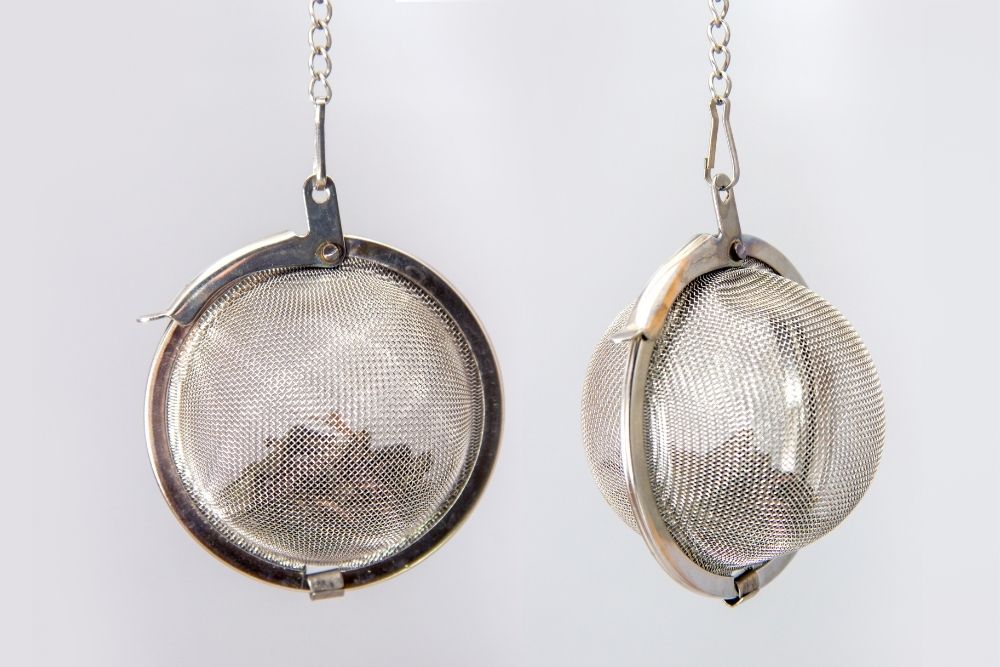 The Fu store tea infuser has a good size that fits in most tea mugs.
The Tilevo tea infusers are aesthetically appealing, and they do a great job of heat insulation because of the silicone material.
Negative Remarks
One client attests that the Fu Store unit was not 100% stainless steel and that it had started rusting on the hinge after a few uses. They also left a metallic taste in their tea.
One client said that the Tilevo Tea infusers are cute. However, they float; hence you may need to hold it down constantly. This is a significant inconvenience.
Bottom Line
Diffusers and tea infusers are both self-care tools with commendable job descriptions. And from this piece, we can tell that people need both as they are exceptional in their own ways.
One offers you a chance to heal through your olfactory system, while the other takes a different approach from the inside out through the digestive system.
To sum up, they are both great products and if you can get both, well and good.